Ahh! I'm so excited to post this! Okay, so I had a chance to interview Jaye L. Knight, a Christian fantasy author (you can read a bit more about her at the bottom of this post). Here it is:
What do you like to do other than reading and writing?
For several years now, I've enjoyed designing and sewing fantasy costumes and historical clothing. I really love historical reenactment, and take part it in whenever I get the chance. Movies. I LOVE movies. And good TV shows. I'm always up for an evening of watching one or the other. And, despite how much I write indoors, I'm an outdoorsy girl. I love to go hiking, kayaking, and fishing.
Where did you learn to write battle scenes?
Good question. Probably from reading
The Lord of the Rings
. And just watching battle scenes like in the LOTR movies helped a lot. I've read quite a few fantasy novels since then, and I think each one gives me bits of inspiration and new ways of writing battle scenes.
What was your favorite book to write?
I think Resistance because it's always so much fun to start a brand new story. Plus, that first book was such a discovery period. I was still figuring out the characters and the rest of the series. There was no pressure or deadlines. Just the thrill of building and exploring a new world. I miss that sometimes. I think I'll always be particularly pleased with how Resistance turned out.
Who is your favorite author?
J.R.R. Tolkien. If he hadn't written LOTR, I might never have fallen in love with fantasy and wouldn't be writing it today. LOTR has been a huge part of my life for over ten years. In close second is R.J. Larson. I absolutely LOVE her
Books of the Infinite
series.
What is the best advice you can give to a writing friend?
Read! :) Yes, reading is very important—both fiction books and books/articles on writing. Reading fiction can really help you develop your own writing. And, of course, you always want to be reading about writing to expand your knowledge as a writer.
How did you start your writing journey?
I was eight years old when I started writing my first stories, and it was all because of my mom. She's a writer too, and when I saw her collecting magazine pictures for inspiration for her stories, I guess it looked fun, and I had to try it too. Once I started writing, I guess I couldn't stop. :)

Describe your favorite place to write!
I love to write outdoors. Here at home we have this great big white poplar tree that offers the perfect shady spot in the summer. I love to write and read there. But probably the most special place for me to write is a place called the Eau Claire Dells. The rock formations along the river and in the woods are amazing. It reminds me of a fantasy forest. I don't go there very often, but it is the most amazing place to write. If only it were just a little closer to home.
What is the name of your favorite character you have created?
Jace. I adore Jace. :) He's so much a part of me, but like a best friend at the same time. Working on his storyline and growth through
Ilyon Chronicles
is so satisfying.
What is your favorite Bible verse?
Psalms 46:10 -
He says, "Be still, and know that I am God; I will be exalted among the nations, I will be exalted in the earth."
There have been many times over the last few years and ongoing trials that have required me to be still.
What age did you accept Jesus into your heart?
I was eight years old, and it was in August so it's been about seventeen years now.
What made you decide to self-publish?
Impatience. :P Yeah, I was just so excited to publish my book, and that was the quickest way. Plus I really didn't know a thing about how to get into traditional publishing, and I was nowhere near ready for that anyway.

Do you plan to continue to self publish books, or do you want to traditional publish a book?
I definitely plan to keep publishing my books myself. I love being an indie author. Sometimes I think about writing something to see if I can get into traditional publishing, but never that seriously.
Did you design your book covers? They look fabulous!
Yes, I did. Thank you! My first ones aren't the best, but I learn something new with every one.
What book or movie character are you most like?
I think the one book character I've found I'm most like is Bardon from

The DragonKeeper Chronicles

by Donita K. Paul. Kind of odd considering he's a guy and I'm a girl, but I found myself to relating to him really well. It's been a while since I read it, so I can't really remember specific things we have in common, but I know he struggled socially like I do.
About Jaye L. Knight: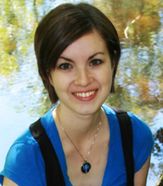 Jaye L. Knight is a 25 year old independent author with a passion for writing Christian fantasy and clean New Adult fiction. Armed with an active imagination and love for adventure, Jaye weaves stories of truth, faith, and courage with the message that even in the deepest darkness, God's love shines as a light to offer hope. She is a homeschool graduate and has been penning stories since the age of eight.
~Ps. 46:10~
Jaye L. Knight's Blog:
http://jayelknight.blogspot.com/
Jaye's Author Website:
http://www.jayelknight.com/
Link To Buy Autographed Copy of "
Resistance
":
http://www.jayelknight.com/books.html
Link To Buy Kindle Version of "
Resistance
":
http://www.amazon.com/gp/product/B00KFXB1IM/ref=as_li_tl?ie=UTF8&camp=1789&creative=390957&creativeASIN=B00KFXB1IM&linkCode=as2&tag=authmollevan-20&linkId=FMZOKOWON2CXGHDR
Link To Buy Paperback Version of "
Resistance
":
http://www.amazon.com/Resistance-Ilyon-Chronicles-Volume-1/dp/0983774048/ref=tmm_pap_title_0
For Information on the
Ilyon Chronicles
:
http://www.ilyonchronicles.com/