". . . I just wish she wouldn't keep trying to marry me off."
"Marriage isn't a bad thing," Edward told his daughter gently.
"I know it's not, Papa," Emma replied. "It's just not for me. I love being who I am and being the captain of the Mercy. I don't want things to ever change."

But as hard as Emma tries to stop it, she finds change is inevitable, particularly when her father's business, and therefore her livelihood, is threatened. The last thing she wants thrown into the midst of it is romance. Determined never to marry or give up her passion for sailing, Emma's quick temper lands her in more and more trouble, especially when it brings a kind and handsome rival captain into her life, throwing it into turmoil.

In the dramatic conclusion to Pirates & Faith, can Emma find the faith to trust that God's plans truly are better than her own, or will it be too late for a second chance?
My Review:
First of all, Finding Faith is my favorite in the Pirates and Faith series. It is a fabulous book!
Characters:
Emma is a wonderful, lovable, and strong-willed woman. She is so well developed! She is very complex. She grows so much throughout the book!
Plot:
This book has many subplots. It must have been difficult for Molly to weave them altogether so beautifully. Great job, Molly!
One thing that I really liked about this book is that it is about Emma, Will's younger sister who was in the second book. In the second book, her dream was to be a ship's captain! In this one, she is all grown up (but not really at heart) and is following her dreams! I really love that about this book! And, the characters from the first two are in it too! I really like how Molly incorporated them and their stories weren't finished yet!
I encourage you to read "Finding Faith" and all of
Molly Evangeline's
books! In my opinion, she is the best writer! Please keep up writing wholesome adventure stories,
Ms. Evangeline
!!!
About the Author: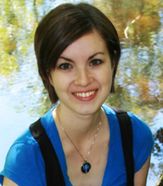 Molly Evangeline is a 25 year old independent author with a passion for writing Christian fantasy and clean New Adult fiction. Armed with an active imagination and love for adventure, Molly weaves stories of truth, faith, and courage with the message that even in the deepest darkness, God's love shines as a light to offer hope. She is a homeschool graduate and has been penning stories since the age of eight.
~Ps. 46:10~