"Determined to follow the will of Elohim, Makilien faces daily threats and hardship. But an even bigger threat is growing. Bent on destroying his opposition once and for all, Zirtan amasses a devastating force to take control of Dolennar. When a dangerous secret comes to light, Makilien, along with her family and Aedan, are thrust into the middle of the struggle.

Faced with an army far outnumbering their own, Makilien and her friends risk everything--injury, captivity, even death--to gather their allies. But in the end, their hope and courage must rest in Elohim. Can the forces of good achieve victory, or will the might of evil prevail? Who will be left to see the end?"

My Review

Courage is a fabulous book by Molly Evangeline. It is the third book in the Makilien Trilogy, and in my opinion, the best one. It is very intense and extremely well written.

Characters

The book is about a young woman named Makilien. She is a spirited girl with a big heart and very well developed.

Plot
This book starts one year after the first book ends. It has an amazing plot, continuing from the next book!

I strongly encourage you to read this book, and Trilogy! I read the entire Trilogy in about 5 days (I read really fast). Molly Evangeline really knows how to hook a reader and create emotional and intense scenes. The battles in this trilogy, but written beautifully. Honestly, I don't know what to say other than: GO READ IT!

About the Author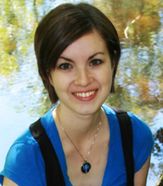 Molly Evangeline is a 25 year old independent author with a passion for writing Christian fantasy and clean New Adult fiction. Armed with an active imagination and love for adventure, Molly weaves stories of truth, faith, and courage with the message that even in the deepest darkness, God's love shines as a light to offer hope. She is a homeschool graduate and has been penning stories since the age of eight.
~Ps. 46:10~

Buy The Book on Kindle:

Amazon


Buy The Paperback Copy:

http://www.amazon.com/Courage-Makilien-Trilogy-Book-2/dp/0983774013/ref=tmm_pap_title_0?ie=UTF8&qid=1403013514&sr=8-8


Buy A Signed Copy:

http://www.mollyevangeline.com/autographed-books.html


Buy Jewelry Inspired By The Books:

https://www.etsy.com/shop/JayeLKnight



*Disclaimer* - I received a copy of this book from the author in exchange for my honest review.