"Aside from the nagging and sometimes troubling memories and questions of his past, life for Will over the last year has been truly blessed. His relationship with Skye grows daily as he plans and prepares a future life for them. However, all he envisioned is endangered by an unexpected stranger with a shocking identity. Suddenly, Will learns more about his past than he thought he'd ever know, but it comes at a steep price when he and everyone closest to him are thrown into the middle of a dangerous plot that threatens all their lives.

Every Tear, the moving sequel to The Pirate Daughter's Promise, is an example of how God never leaves our side, even in our most troubling and sorrowful moments, taking every tear into account."
My Review
This book was very good! It is the second book in the "Pirates and Faith" series. In my opinion, it is better than the first book in the series, "The Pirate Daughter's Promise".
The plot is very intriguing! It goes deeper into Will's past and has many twists and turns, though I thought that it was just a tad predictable (don't worry, I won't put any spoilers). The book begins about two years after the first book ends. Will goes back to work as a blacksmith...when he's not sailing on the "Grace" and Skye lives with her father. One day, Will notices a strange old woman staring at him. Circumstances spiral out of their control from that point on. They must trust God to bring them through their trials and heal from tragedies...wiping away every tear!
There is a bit more romance in this book than the first, but it is wholesome and altogether sweet as the relationship between Will and Skye grows stronger, and doesn't take over the main plot.
I encourage you to read "Every Tear" and all of Molly Evangeline's books! In my opinion, she is the best writer! Please keep up writing wholesome adventure stories, Ms. Evangeline!!!
About the Author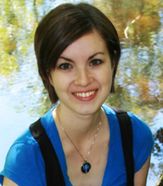 Molly Evangeline is a 25 year old independent author with a passion for writing Christian fantasy and clean New Adult fiction. Armed with an active imagination and love for adventure, Molly weaves stories of truth, faith, and courage with the message that even in the deepest darkness, God's love shines as a light to offer hope. She is a homeschool graduate and has been penning stories since the age of eight.
~Ps. 46:10~
Link To Buy Kindle Version:
http://www.amazon.com/Every-Pirates-Faith-Molly-Evangeline-ebook/dp/B004AE3JF0/ref=sr_1_1?ie=UTF8&qid=1403361185&sr=8-1&keywords=every+tear+molly
Link to Buy Paperback Version:
http://www.amazon.com/Every-Tear-Pirates-Faith-Book/dp/1442162473/ref=tmm_pap_title_0?ie=UTF8&qid=1403361185&sr=8-1
Link to Buy Autographed Copy:
http://www.mollyevangeline.com/autographed-books.html
To Read About Writing "Every Tear" and Watch the Book Trailer:
http://www.mollyevangeline.com/every-tear.html
*Disclaimer* - I received a copy of this book from the author in exchange for my honest review.