"Struggling to cope with the losses of battle, Makilien seeks to live each day in trust of Elohim's plans. As the conflict of hope and reality war in her mind, a sudden arrival changes everything, bringing to light a new scheme wrought by the remnant of Zirtan's men.

Finding herself witness to a shocking act of treachery, Makilien is thrust into the very center of the dangerous plans. Trust is something she must give carefully as those who appear trustworthy fail even as those she would least expect could hold the key to success. Can she and those around her secure their safety and freedom or will they find themselves outwitted by their enemy's final act of dominance?"

My Review

Trust is the third installment of the Makilien Trilogy by Molly Evangeline. It starts about a year after the second book ends.

The major characters are pretty much the same.

This book is an emotional roller coaster. There are happy parts along with break-your-heart parts. In my opinion, it is not the best in the trilogy, but don't get me wrong, I still love it!


I strongly encourage you to read this book, and Trilogy! I read the entire Trilogy in about 5 days (I read really fast). Molly Evangeline really knows how to hook a reader and create emotional and intense scenes. The battles in this trilogy, but written beautifully. Honestly, I don't know what to say other than: GO READ IT!

About the Author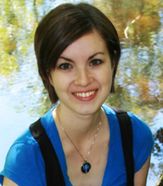 Molly Evangeline is a 25 year old independent author with a passion for writing Christian fantasy and clean New Adult fiction. Armed with an active imagination and love for adventure, Molly weaves stories of truth, faith, and courage with the message that even in the deepest darkness, God's love shines as a light to offer hope. She is a homeschool graduate and has been penning stories since the age of eight.
~Ps. 46:10~

Buy The Book on Kindle:

Amazon


Buy The Paperback Copy:

http://www.amazon.com/Trust-Makilien-Trilogy-Book-3/dp/098377403X/ref=tmm_pap_title_0?ie=UTF8&qid=1403013633&sr=8-7


Buy A Signed Copy:

http://www.mollyevangeline.com/autographed-books.html


Buy Jewelry Inspired By The Books:

https://www.etsy.com/shop/JayeLKnight



*Disclaimer* - I received a copy of this book from the author in exchange for my honest review.