"Trapped in a village no one is allowed to leave, Makilien yearns for the answers to her questions about life and the world outside the village walls. Yet no one but her closest friend seems to understand or share her desire. Despite her family's fears and warnings of the consequences, she is determined to find answers.

The unexpected arrival of a stranger, and the knowledge he possesses, drives Makilien to drastic action. Confronted with a world she knows nothing about, she must choose carefully who to trust as both good and evil lurk in all places. As a battle looms, one in which will be determined the fate of all, she must decide whether to believe in the One who is truth or fall prey to the lies of the enemy."
My Review
First of all, I'm sorry that I was really late with this post.
Truth
is the first book in the
Makilien Trilogy
by Molly Evangeline (who now publishes under Jaye L. Knight). While
Truth
is not my favorite book in the series, I still loved it! It is probably my second favorite book in the series and my third favorite book ever!
Courage
, the second book in the trilogy is my second favorite, behind
Resistance
.
Characters
The book is about a young woman named Makilien. Makilien, unlike all of the other people in the village of Reylaun wants to see the world outside of the village. She is a spirited girl with a big heart and very well developed.
Plot
The plot was amazing with twists, turns, and nail biting moments. I was afraid to get too attached to some of the characters for fear that they would die somehow. Danger is everywhere in the book. Fabulous job, Ms. Evangeline!
I strongly encourage you to read this book, and Trilogy! I read the entire Trilogy in about 5 days (I read really fast). Molly Evangeline really knows how to hook a reader and create emotional and intense scenes. The battles in this trilogy, but written beautifully. Honestly, I don't know what to say other than: GO READ IT!
About the Author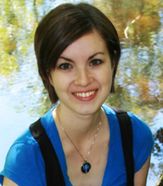 Molly Evangeline is a 25 year old independent author with a passion for writing Christian fantasy and clean New Adult fiction. Armed with an active imagination and love for adventure, Molly weaves stories of truth, faith, and courage with the message that even in the deepest darkness, God's love shines as a light to offer hope. She is a homeschool graduate and has been penning stories since the age of eight.
~Ps. 46:10~
Buy The Book on Kindle:
Amazon
Buy The Paperback Copy:
http://www.amazon.com/Truth-Makilien-Trilogy-Book-1/dp/0983774005/ref=la_B0035BNPAS_1_2_bnp_0_main?s=books&ie=UTF8&qid=1402142375&sr=1-2
Buy A Signed Copy:
http://www.mollyevangeline.com/autographed-books.html
Buy Jewelry Inspired By The Books:
https://www.etsy.com/shop/JayeLKnight
*Disclaimer* - I received a copy of this book from the author in exchange for my honest review.